Pope's TED talk calls for humility
Comments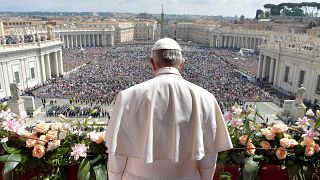 Pope Francis gave a surprise lecture for the website TED talks. His message was for all, but words of warning were directed at 'the powerful'.
"The more powerful you are, the more your actions will have an impact on people, the more responsible you are to act humbly," said the pontiff, seated at a desk in the Vatican.
"You will end up hurting yourself and those around you, if you don't connect your power with humility and tenderness.
"Through humility and concrete love, on the other hand, power – the highest, the strongest one – becomes a service, a force for good."
Watch Pope Francis's TED Talk on why the only future worth building includes everyone: https://t.co/1PakQdaj2h#TED2017pic.twitter.com/2iOmLYxwmx

—

TED

Talks (@TEDTalks) April 26, 2017
The papal lecture on the popular lecture website TED (Technology, Entertainment and Design), also extended to what he termed a "culture of waste" not only in food production but in people, cast aside by economic systems.
Pope Francis reassured his audience that a happy future is possible and said he hopes that Science and Technology will play a role in building equality and social inclusion.
"How wonderful would it be if the growth of scientific and technological innovation would come along with more equality and social inclusion," he announced.
Three key lessons from the Pope's TED talk https://t.co/V0G9oT1MmRpic.twitter.com/raPQFRrlv4

— Carla Mendoza (@Kiki_Mendo) April 26, 2017