FYROM: caught between East and West
Comments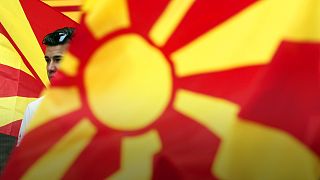 Four months after holding parliamentary elections, the Former Yugoslavian Republic of Macedonia is still without a government.
The social-democrats with the support of minor parties have a parliamentary majority but they're being blocked from power by the right-wing former government.
East and West have clashed over the result, with Moscow backing the former prime minister and the EU and the USA supporting the social-democrats.
Macedonia's president refuses to give government mandate to Social Democrats – Reuters https://t.co/DD1SrNJKnS

— Demian von Osten (@demianvonosten) March 2, 2017
The EU want to accelerate the integration process of the Balkan country into the bloc and NATO.
But since the vote, Russia's interest in the Balkan country has been increasing, according to Zoran Zaev, president of the Social Democrats Party .
He claimed that without sufficient action from the EU and USA, Russia's hand in Macedonian affairs would be strengthened.
"The Russian influence can already be felt here, through the increased personnel presence and the statements from the Russian Federation Minister for Foreign Affairs, as well as through the activities of their Embassy in the country.
"A trend of falling support for the EU and NATO is noticeable among the citizens here. The percentage of the decline is very small, but nevertheless visible," said Zaev
"I believe that if no additional measures are undertaken, in regard to the low interest of the EU and the USA in this region, the Russian Federation will have more space to impose its own interests," he added.
But the head of the Macedonian diplomacy played down suggestions of Russian interference. Nikola Popovski said: "Russia can have its own interests, it is legitimate.
"But this question can be put forward to any of the current member states of the European Union too.
"It is not something that it is exclusive to our region or let's say candidate and potential candidate countries from the Balkan states," he said.
The Balkans has long attracted the attention of Russia on the one hand, and of the Western powers on the other.
But current tensions between the EU and Russia inevitably reflect upon an already fragile Macedonia.