US: Arkansas carries out back-to-back executions
Comments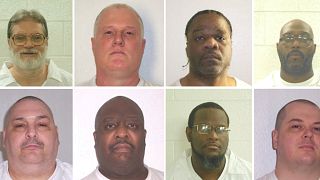 Arkansas has become the first US state in 17 years to execute more than one inmate on the same day.
Convicted killers Jack Jones, 52, and Marcel Williams, 46, were put to death a little more than three hours apart.
"He (Jones) spoke for about two minutes. All we could really see was him breathing a little bit. And it took him about 14 minutes to pass," said a local reporter.
Before his execution tonight in Arkansas, condemned inmate Jack Jones issued his final statement. https://t.co/lYwu66jCmZpic.twitter.com/rBTzHkSJLO

— Jim Roberts (@nycjim) 25 April 2017
Jones and Williams were among eight people that Arkansas had initially planned to execute over 11 days this month.
That number prompted by an impending expiration date of the state's supplies of midazolam, a sedative used as part of a three-drug protocol.
The drug was used in flawed executions in Oklahoma and Arizona, where witnesses said the inmates writhed in apparent pain.
Both Jones and Williams had argued to the US Supreme Court that their obesity put them at heightened risk of pain due to midazolam. The court rejected those claims without comment.
Court orders have put four of the eight executions on hold.