China bans dozens of Muslims names, as Beijing cracks down on religious extremism
Comments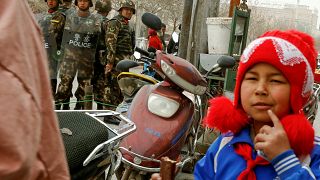 Chinese authorities have banned dozens of "extremist" Muslim baby names in Xinjian, a province in which a significant number of Uighur Muslims live, as part of a crackdown on what Beijing calls religious extremism.
Names including Islam, Quran, Jihad, Imam, Saddam, Hajj and Medina are now banned under China's "Naming Rules For Ethnic Minorities", reports Radio Free Asia.
As many as 29 names with religious meanings which are widely used by Muslims in other countries are reportedly on the list. More "mainstream" names, or names without extremist overtones like Mehmet, are still accepted.
China bans 'extreme' Muslim baby names in Xinjiang – reports https://t.co/wJ9LWdi5eHhrichina</a> <a href="https://twitter.com/hrw">hrwpic.twitter.com/oorLKhKH5V

— Hong Kong Free Press (@HongKongFP) April 25, 2017
If parents give their child a banned name it will be kept off the local government household registration system which is needed to access public welfare, healthcare and education.
The name ban was reportedly first introduced in 2015 in the city of Hotan but it has now been implemented province-wide amid Beijing's fear simmering resentment in the region and the threat posed by Islamic extremism engenders increased sectarian violence.
Hundreds of people have been killed in Xinjian in the past few years mostly due to clashes between Uighurs and Han Chinese.
In 2014, as many as 29 people were killed in a mass-stabbing attack in Kunming which authorities said at the time they had evidence linking the perpetrators to Xinjian.
Five people were killed last year in a bombing attack, blamed on Uighur extremists, which killed two people.
And in February, another knife attack in Pishan County killed five before the assailants were themselves killed.
The Chinese government largely blames the unrest on what it calls Islamist militants and the Communist Party's strict adherence to atheism and its intolerance toward religious expression have exacerbated tensions.
In late March Chinese authorities banned Muslim men from having "abnormal" facial hair, wearing robes which cover the whole body and women from wearing bukas.
Earlier this month a local Chinese official in Hotan was demoted for refusing to smoke in front of Muslim elders — in what was considered a sign he wasn't committed to the fight against religious extremism.
In a statement released this week, Human Rights Watch critiqued China's approach as farcical and described the name rule another example of "blatant violations of domestic and international protections on the rights to freedom of belief and expression."
Sophie Richardson, Human Rights Watch's China director, said Beijing's policies run the risk of exaggerating religious sentiment in the region and worsen the region's unrest.
"Violent incidents and ethnic tensions in Xinjiang have been on the rise in recent years, but the government's farcically repressive policies and punishments are hardly solutions", Richardson said. "Instead, they are only going to deepen resentment among Uyghurs. If the government is serious about bringing stability and harmony to the region as it claims, it should roll back – not double down on – repressive policies."
Xinjiang has long been one of China's most unstable regions, but the government has focused on stabilising the region as it moves forward with its One Road One Belt Silk Road project.
The government has deployed paramilitary police to the region to enforce Beijing's laws.