French election relief rally pushes up share prices
Comments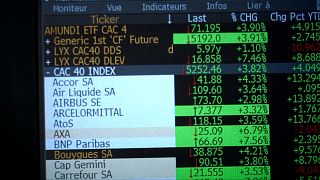 There were no surprises from the first round of the French election which meant a relief rally for the European stock markets and beyond.
The index of top shares in Paris ended Monday's trading session up 4.14 percent – its biggest daily percentage gain in almost five years.
The blue chip eurozone STOXX 50 index surged 3.99 percent – its best day in nearly two years.
Banks were the biggest gainers.
The euro initially surged but later scaled back those gains rising by more than one percent against the dollar.
Opinion polls show Emmanuel Macron likely to beat Marine Le Pen in the second round of voting on May 7.
But in Frankfurt analyst Oliver Roth with Oddo Seydler Bank said it was still early days: "The markets have shown that they are not exactly a stronghold of wisdom when it comes to future developments, as we saw with Trump, and with Brexit. And so I urge caution, because the left-liberal Macron, who is the candidate of the conservative camp, has not yet won the presidency."
For now investors have put aside their worries that a victory for Le Pen is on the cards which they feared could eventually put France on the path taken by Britain to leave the European Union.
Even London got into the spirit with the UK's FTSE100 up 2.11 percent.
As shares rose, so called safe haven investments slid. Gold fell 0.9 percent and the Japanese currency, the yen, also declinced while there was a sell-off of German government bonds.
Oil prices continued to decline after last week's selloff, weighed by signs US production and inventory growth were offsetting OPEC's attempts to reduce a persisting global glut.