Macron, Le Pen win first round of French presidential election
Comments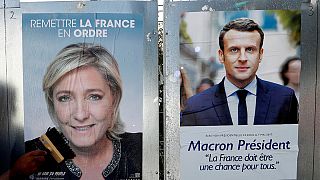 Centrist Emmanuel Macron and far-right leader Marine Le Pen will go head to head in the French presidential runoff on May 7.
The result is a massive rejection of the ruling establishment – the centre-right and Socialist parties that had dominated French politics for 60 years. For reactions to this historic first-round from across the board click here .
With nearly all 47 million votes counted, Macron, a pro-European former economy minister won the first round with 23.7 percent, followed by Le Pen at 21.5 percent. Conservative Francois Fillon collected 19.9 percent of votes, and far-left maverick Jean-Luc Melenchon 19.6 percent.
Turnout was around 78 percent, slightly down from 2012 when it stood at 79.48 percent, according to the interior ministry.
Never before had Le Pen's National Front party reaped so many votes – around 6.9 million. However, opinion polls show the 39-year-old Macron, who is running as an independent, easily beating her in the runoff.
Conceding defeat even before figures from the count came in, rival conservative and Socialist candidates urged their supporters now to put their energies into backing Macron and stopping any chance of a second-round victory by Le Pen, whose anti-immigration and anti-Europe policies they said spelled disaster for France.
A Harris survey taken on Sunday saw Macron winning the runoff by 64 percent to 36, and an Ipsos/Sopra Steria poll gave a similar result.
Macron said his new party En Marche had "changed the face of French politics", while Le Pen hailed the result as "historic". Click here for more of what the leading candidate has to say for himself.
Le Pen vowed to defend France against "rampant globalisation".
"This result is historic. It gives me a huge responsibility – to defend the French nation, its unity, its security, its culture, its prosperity and its independence," she said.
"The main thing at stake in this election is the rampant globalisation that is endangering our civilisation." Click here to hear more quotes from Le Penn.
Macron called on all "patriots" to rally behind him against the threat of what he called "nationalists."
He said: "I want to be the president of patriots against the threat of nationalists.
"In one year, we have changed the face of French politics."