Parisians defiant: "We must carry on, we must continue to live"
Comments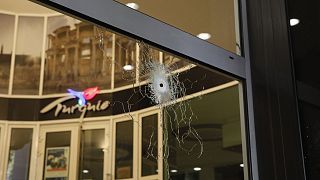 After the panic on the Champs-Elysée, with the killing of a policeman and the wounding of two others, it is time for reflection and debate.
People have been expressing their thoughts on what happened, just days before France's presidential election.
One woman who works in the area told reporters: "It's happening here, abroad, everywhere. We must carry on, we must continue to live."
A young Muslim man warned people to be rational in their response to the shooting.
"Everyone says terrorists are Muslims, but there is not a Muslim who kills another. That is forbidden in our religion.
"Terrorism is a phenomenon that threatens the world, there are no original roots behind it."
Those caught up in the panic have also been recounting what happened.
One woman said: "I was very scared, afraid for my life, for my safety. I hid in a corner in a road down there, Rue Frederic Bastiat, and I waited there for 20 minutes until it calmed down.
"After coming out of the street I ran to the metro station Saint Philippe-du-Roule and I ran. In the metro I was really scared too."
Another eyewitness explained how he attempted to reassure those around him.
"In the shop I was in there must have been about 50 of us, most of them foreigners. They didn't understand.
"They were looking at me saying: 'What's happening? I said 'It's okay, they've killed him."
France has already been under a state of emergency and security is tight leading up to Sunday's election.