Italy donates boats to Libya in effort to fight human trafficking
Comments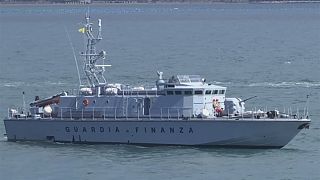 The Italian Coast Guard has donated two rescue boats to its Libyan counterpart as part of an agreement to fight the trafficking of migrants across the Mediterranean.
In total, Italy will give ten such boats to Libya.
In the last few years, Italy has helped coordinate the rescue of thousands of migrants in the Mediterannean.
As part of the bilateral accord, there is a plan in motion to train the Libyan Coast Guard to enable it to help in rescue operations.
During a visit to the White House on Thursday, Italian Prime Minister Paolo Gentiloni made efforts to push the US to become more involved in bringing political stability to Libya.
Italian media reports suggested President Donald Trump snubbed the gesture. However, reporters following the news conference said he hadn't been listening to the simultaneous translation at the time Gentiloni made the comment.