German foreign minister meets Kurdistan leaders in Iraq
Comments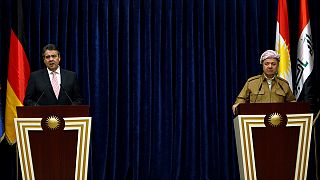 Germany's Foreign Minister Sigmar Gabriel has expressed support for Iraq's Kurds during a trip to Erbil in the north-east of the country.
Both he and the Kurdish regional president Masoud Barzani highlighted the assistance, training and weaponry Germany has provided to Kurdish Peshmerga fighters in the battle against ISIL.
Gabriel praised the Kurdistan Region's efforts in the war against jihad. However, he said it was now time to back it in other ways.
Barzani is hoping to organise a referendum on independence from Iraq, which he says will be done in a "peaceful way", in collaboration with Baghdad.
Gabriel, who arrived from the Iraqi capital stating that the main reason for his visit was to help the country stay united, refused to comment on the anticipated vote, saying it was an internal issue.