US reportedly considering shooting future North Korea missile tests
Comments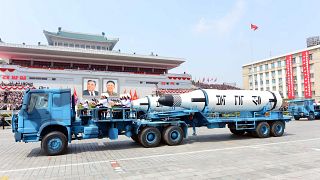 The US military is reportedly considering plans to potentially shoot down future North Korean missile tests amid an intensifying war of words in which North Korea has threatened the US with nuclear war if attacked.
According to the Guardian newspaper, United States Defense Secretary James Matthis has briefed the US Congress in Washington about the possible plan, but the army has not yet approved it as an option.
The revelation comes as the US military says it will test its ability to shoot North Korean missiles in the Pacific next month and as South Korean and US officials agree on the early deployment of a US THAAD anti-missile defence system to the peninsula.
These announcement follow US Vice President Mike Pence declaring the US' "era of strategic patience" with Pyongyang finished amid a flurry of North Korean missile launches, the most recent of which took place on Sunday and further speculation the country is readying its sixth nuclear test.
The United States accuses North Korea of attempting to "provoke something", while Pyongyang says it will conduct more missile tests on a "weekly, monthly and yearly basis".
The country has threatened all-out war in the event of an American intervention. The US has promised to meet any North Korean attack with an "overwhelming response".
The US, Japan, South Korea and China have attempted to reign in the reclusive nation for decades. North Korea often violates UN resolutions and tensions have only increased since US President Donald Trump took office.
China's Foreign Ministry said on Wednesday it is seriously concerned by North Korea's promise of further missile tests and warning of war.
China, North Korea's only ally who President Trump is relying on to influence Pyongyang, has repeatedly called for calm amid increasing sabre-rattling on both sides.
"We call upon all the parties, no matter verbally on in action, to stop provoking and threatening each other and not to allow the situation to become irretrievable and out of control," said Foreign Minister Wang Yi.
To mark the 105th birthday of Kim Il-sung, the grandfather of current North Korean leader Kim Jong-un, North Korea's state television aired footage of a choral performance followed by a video showing numerous missiles targeting US cities.
The video ended with the US flag in flames and overlapping rows of white cemetery crosses.
North Korea's latest missile test on Sunday reportedly failed, exploding shortly after launch.
The country's missile technology has been improving but its record remains spotty.