Rohani ready to defend legacy as Iran's election looms
Comments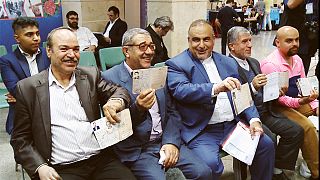 The registration process for the Iranian presidential election began on April 11 and concluded five days later.
In a flurry of activity 1636 people enrolled.
They must now be scrutinised by the Guardian Council according to the constitution.
This election will be a political bout between the fundamentalists and the reformers who backed Hasan Rohani, a cleric and soft reformer, four years ago.
Once again Rohani has the reformist support, after the groundbreaking nuclear (JCPOA) deal.
Hasan Rohaní optará a la reelección en los comicios de mayo en Irán https://t.co/cJBQwjwYYLpic.twitter.com/GqVZYiaHub

— euronews español (@euronewses) April 15, 2017
Rouhani looks set to fight for his legacy:
"Preserving JCPOA is one of the most important political and economic issues in for Iranians and those opposed, those want to kill the deal, they cannot be allowed to be the legitimate custodians.''
#Ahmadinejad 's Candidacy Significant to Tone, but Perhaps Not to #policyhttps://t.co/7XGc0IxTXw#IranElections2017#Iranelectionspic.twitter.com/H7KKTuT9rf

— IranNewsUpdate (@IranNewsUpdate1) April 14, 2017
Unlike the reformists the fundamentalists are a fractured bunch. Ebrahim Raeisi, the former judiciary deputy, is set to rival Rohani, in his opening gambit he spoke of a bread and butter issue, work:
"People ask why they are unemployed?
People are worried about work and business, and their prosperity."
Unconfirmed:Ebrahim Raeisi reportedly chosen as main conservative candidate in May #IranElection
His name was earlier raised as next Leader pic.twitter.com/HdevWJdVV0

— Reza Khaasteh (@Khaaasteh) February 23, 2017
The Mayor of Tehran Mohammed Bagher Ghalibaf is also in the hat.
Last 1: #Iran VP Mohammed Bagher Nobakht at work in his office. http://t.co/yRMAziVmjUsdawsonphoto</a> <a href="https://twitter.com/BloombergPhotos">BloombergPhotospic.twitter.com/G3CRiykq4j

— Andrew Barden (@abarden) August 25, 2015
Back in the fray is former president Mahmoud Ahmadinejad, though he could be in hot water with the Guardian Council after he appeared to reject the Supreme Leaders advice of not to run.
JUST IN: Iran's former President Mahmoud Ahmadinejad has registered to run for president again, state media says https://t.co/G49ZMiaBWIpic.twitter.com/GfGpBEhz2H

—

CNN

International (@cnni) April 12, 2017
Euronews reporter Javad Montazeri is in Iranian capital, Tehran presidential election will see another battle between Iran's two major political forces, reformers and fundamentalists. Firstly, those registered must await approval by the Guardian Council as some prominent political figures have been rejected by the powerful body.''
به همراه محمدرضاي عزيز فيلمبردار يورونيوز و آقا محسن شانديز از عكاسان با سابقه و حرفه اي در ستاد انتخابات وزارت كشور euronews_pe</a> <a href="https://t.co/rZ1busviRr">pic.twitter.com/rZ1busviRr</a></p>— Javad Montazeri (montazeri_javad) April 11, 2017