More than 1,000 register to run for presidency in Iran
Comments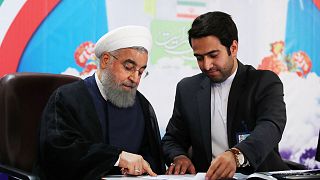 With the deadline approaching, more than 1,300 candidates have registered to run for the presidency in Iran, according to local media .
But there are two key players who are stealing all the headlines. Current president Hassan Rouhani, a moderate who is seeking is second four-year term, and hardline cleric Ebrahim Raisi.
The vote is being cast as a referendum on the historic nuclear deal. Chief engineer of the agreement Rouhani, has vowed to remain loyal to the pact which saw economic sanctions lifted in exchange for curbing nuclear activities. However, critics say Iranians have yet to feel the economic benefits.
Judge and cleric Ebrahim Raisi, a close ally of Supreme Leader Ayatollah Ali Khamenei, is the leading hardline candidate, however, Khamenei has yet to unite the hardliners behind him.
Former president Mahmoud Ahmadinejad, who served two terms (between 2005 and 2013) also threw his hat in the ring against the advice of the Supreme Leader.
The large list of potentials will be whittled down by the Guardian Council and final selection based on political and Islamic qualifications announced on April 27, ahead of the ballot in May 19.
Who can run for the presidency in Iran?
According to Article 35 of Iranian election law, people who want to register themselves for the presidential election must have these eligibilities:
1- Religious/ political figure.
2- Iranian-born.
3- Iranian Citizen.
4- Wise and having management capability.
5- Virtue and good reputation and trusteeship.
6- Believer and committed to the Islamic Republic of Iran's fundamentals and also official religion of the country.