France's unpredictable presidential race enters its final days
Comments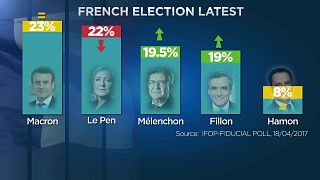 In the last days of campaigning all bets are off in the French presidential election. The race has seen frontrunners become pariahs, and left field candidates become plausible contenders.
And the latest polls make the outcome incalculable. While centrist Emmanuel Macron and far-right contender Marine Le Pen retain the top spots, there is barely a percentage point between them and far-left firebrand Jean-Luc Melenchon is gaining on them.
Le Pen sought to turn the debate to immigration with a vow to suspend all entries into France. While Macron attacked his rivals as wanting to take the country back to the past.
Referring to Melenchon, he said it would be like 'Cuba without the sun'. The far-left candidate wants to renegotiate EU treaties, pull out of NATO and replace austerity with stimulus.
The only certainty in the campaign has been a shift away from the traditional parties of government. This has hurt Francois Fillon from the Republicains and Benoit Hamon from the Socialists. Fillon had been a favourite until allegations surfaced that he had used public funds to pay his wife and family members for fake jobs.
The remaining candidates are hoping to capitalise on this disenchantment.
Nearly a third of voters are yet to decide on one of the eleven candidates. The undecideds or no-show voters could prove the most important.
According to one poll, the biggest swing could come from Socialist voters, who have been disillusioned with the government of Francois Hollande.
The outcome is likely a second round run off that would pit Le Pen, Macron, Melenchon or Fillon against one another in a number of combinations. What some analysts fear is a run-off between the two extreme right and left wing candidates.
The last big upset in the first round of a presidential election came in 2002, when Jean-Marie Le Pen beat the Socialist candidate. But he lost in the second round to centre-right candidate Jacques Chirac. But experts say this election could prove to be even more of a surprise.