Melbourne shop owner bans blacks and dogs
Comments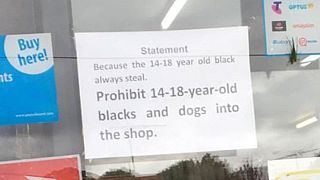 A Melbourne milk bar has come under fire after the owner displayed a sign in the window banning black youths and dogs.
The owner Lunjie Lin said he was driven to breaking point after an incident with a group of Sudanese children.
"[Shoplifting happens] a lot," he said.
"Always black person, young boys after playing soccer.
"It's happened about 20 times in two months and today when I tried to stop them they were asking to fight me," Lin told The Herald Sun
"I was so angry so I went and made that sign and hung it up, a few hours later I thought about it and took it down."
Lin said he was fed up and was hoping that criminals would leave his store along.
Here's people's response to a store banning "Blacks and Dogs" in Melbourne. pic.twitter.com/R0o88fLX4y

— Achmat X (@AchmatX) 14 April 2017
"Whenever I call the police there is nothing they can do."
A Victoria Police spokesman said officers were aware of the sign, which they described as "inappropriate".
The sign sparked a social media debate with some calling the sign racist while others offered sympathy and understanding.
Sign banning 'blacks and #Dogs' from a milk bar was put up after 'eight #African#Youths raided the Melbourne store' https://t.co/G3ZHhrV5Zh

— Albert Jeremia (@_AlbertJeremia) 15 April 2017