Texas files anti-masturbation law in response to anti-abortion measures
Comments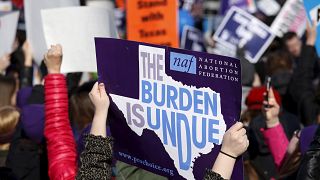 A proposed bill that would make male masturbation a criminal offence has taken a step closer to being written into the statute books in Texas, USA.
The proposal has no realistic chance of becoming law but may have greater success in its true objective: making a mockery of laws that target abortion rights in the state.
The satirical bill, entitled, The Man's Right to Know Act, would permit Texan men to masturbate only under certain supervised conditions, such as inside health care and medical facilities.
It has been put forward by Jessica Farrar of Houston. In it she proposes that: "any unregulated masturbatory emissions outside of a woman's vagina, or created outside of a health or medical facility, would be charged a $100 (90 euros) civil penalty for each emission, and would be considered an act against an unborn child, and failing to preserve the sanctity of life."
Farrar also wants to promote "fully abstinent sexual relations" and to create a "hospital masturbatory assistance registry" to provide "fully abstinent encouragement counselling supervising physicians for masturbatory emissions, and storage for the semen."
And any doctor performing a vasectomy or prescribing Viagra would need to give patients the booklet "A Man's Right to Know."
Currently a doctor performing an abortion must give women a booklet entitled "A Woman's Right to Know." Women must also undergo what Farrar describes as an "unnecessary" trans-vaginal ultrasound.
In response, her bill requires that any man undergoing a vasectomy have an equally unnecessary digital rectal exam and magnetic resonance imaging of the rectum.
For the bill to pass it would require the Texas House State Affairs Committee chairman, the Republican Byron Cook to hold a public hearing.
But seeing as he either filed or supported some of the bills criticised by Farrar, he is unlikely to give it the nod.