Venezuela hit by further opposition protests
Comments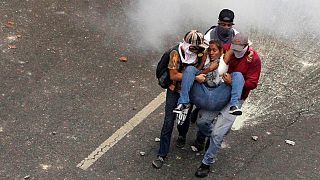 There have been further ugly protests on the streets of Venezuela's capital Caracas after demonstrators clashed with police.
The violence comes amid rising anger over what many opposition protesters see as a disregard for democratic institutions.
Last week President Nicolas Maduro's government barred oppostion leader Henrique Capriles from running for office for 15 years.
A week earlier, the Supreme Court stripped the opposition controlled congress of its powers, a decision which was later reversed.
Despite the recent backlash, Venezuela's embattled president accused the United States and opposition of trying to instigate a coup.
"We are facing a coup at the moment and we are defeating it in Venezuela, of course. But it comes from the oligarchical right which is subordinate to the interests of the United States," Maduro said.
The latest violence follows months of opposition protests over Venezuela's dire economic position.
Faced with soaring inflation the crisis has led to chronic shortages in basic foods and medicines.