Thousands in South Sudan flee upsurge in ethnic killings
Comments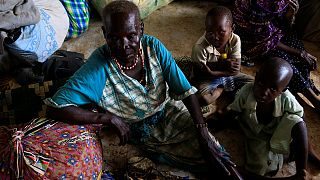 The United Nations has raised alarm at the deteriorating security situation in South Sudan with around 6,000 people having fled in the last week to the border with Uganda.
An ambush on government troops has sparked a surge in violence.
The continued flow of refugees from South Sudan has pushed one camp's population to more than 270K https://t.co/Z6UqNtY3le

—

NPR

(@NPR) April 5, 2017
In the city of Wau government-allied militias are reportedly hunting down and killing people from different ethnic groups.
"The soldiers were looting, breaking doors and beating people. They would arrest you and ask you to show them where the rebels were But when you tell them you don't know, they beat you. They killed people," said one refugee.
Wau is located in a region that has repeatedly changed hands between government troops linked to President Salva Kiir and rebels loyal to his former deputy Riek Machar.
"The United Nations' peacekeeping mission (UNMISS)":
http://www.unhcr.org/news/latest/2017/4/58e792134/6000-flee-fresh-south-sudan-violence-uganda.html has a base in Wau but has been unable to stop the current spread of ethnic killing.
Local resident Tibur Erynio, 41, said a tally of the dead from his neighbours stood at 18, most of them from minority ethnic groups the Jur and Balanda.
One local priest confirmed that up to 3,000 people were sheltering in his church.
Ethnic Killings in South Sudan Leave 16 Dead https://t.co/suoJ8cZLx7pic.twitter.com/746Xl3p0I2

— The Voice of America (@VOANews) April 10, 2017
Since the power struggle between Machar and Kiir began in 2013, tens of thousands have been killed and millions displaced. The conflict has pitted Kiir's Dinka ethnic group against Machar's Nuers. Other ethnic groups have also created militias which have often formed alliances with either side.
The war has also created a man-made famine exacerbating a dire humanitarian crisis.