North Pole hosts 'world's coolest race'
Comments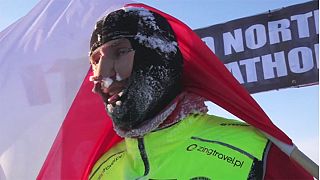 It's billed as the world's coolest race.
The 2017 North Pole Marathon was no exception, with temperatures sinking as low as a brisk minus 31 degrees Celsius.
Some 54 runners from 20 different countries took part, all wearing several layers to counter the harsh conditions.
Polish competitor Piotr Suchenia, 37, was victorious over the 12-lap course, which was run over the frozen waters of the Arctic, at the drifting Russian Barneo base.
He took the win with a time of 04:06.34 and didn't take a single break to refuel, re-heat or rehydrate.
The women's race was close-fought, with France's Frédérique Laurent clinching the title in 06:21.03.