How Europe is being used in the Turkish referendum campaign
Comments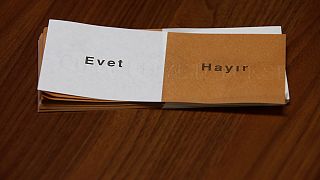 Turkish President Recep Tayyip Erdogan has been accused of using Europe as a whipping post in his campaign to win support for radical constitutional change in Sunday's referendum.
In rallies across Turkey during the past week, Erdogan has said Europe is "finished, wasted away" and no longer a centre of democracy but "one of violence, oppression and Nazism."
"You have seen what happened in Europe," Erdogan told a crowd in Izmir on the weekend. "Why did they go berserk? They saw what this (constitutional) system will bring Turkey. Turkey is leaping, growing. This makes them go crazy."
What the proposed constitution will bring is an executive presidency that would, many fear, give Erdogan more power over parliament and the courts than that of any president in the Western world. The Council of Europe's Venice Commission has said it would be "a dangerous step backwards."
Polls say the Yes and No votes are running neck-and-neck, which may seem strange if one considers the last general elections. The two parties that are campaigning for the Yes vote, Erdogan's Justice and Development Party (AKP) and the National Movement Party (MHP), scored a combined 62 percent in November 2015. The fact that polls say the Yes vote is struggling to reach 50 percent shows just how many nationalists in those parties are opposed to the proposed constitution.
It is Erdogan's job to win those nationalists back by Sunday.
"I will vote No because I don't want one man to have all the power," said an MHP voter who declined to give his name because, he said, of the climate of fear that pervades Turkey.
Sitting in a café in Etimesgut, a staunchly nationalist district of Ankara, he continued: "If one man is all-powerful, will terror be eliminated? Will unemployment (now 12 percent) fall?"
But at the next table, a Yes voting MHP supporter, Mustafa Meray, raised the matter of Germany and the Netherlands blocking Turkish cabinet ministers from holding referendum rallies in their territories.
"The rows with Germany and the Netherlands made nationalist feelings rise in Turkey," he said.
Another nationalist in the café agreed. Cihat Ertan said he was still undecided over how to vote, but "the attitude of Netherlands and Germany pushes me to vote Yes."
"Whenever this country wants to do something by itself, Europe prevents it," he added.
To the political scientist Dogu Ergil, these views belong to a widely-held anti-West feeling and what is seen as its "imperialism". A retired professor from Ankara University, Ergil said the feeling has two roots: Islamism which seeks to "counter the effects of the West on the Islamic world", and secular nationalism which blames the West for the downfall of the Ottoman Empire and the invasion of Turkey in the War of Independence of 1919-22.
"Erdogan is feeding on both views," Ergil says.
When Berlin and Amsterdam blocked the Turkish ministers in early March, Erdogan seized on the issue, accusing the German and Dutch governments of "fascism" and "behaving like Nazis."
He said the Dutch ambassador to Ankara, who was abroad, would not be allowed to return. A pro-Erdogan newspaper ran a photo-montage that depicted German Chancellor Angela Merkel as Hitler.
For Ergil, Erdogan was playing to the gallery.
"This is an artificially created conflict in order to boost anti-Westernism in Turkey, which would be translated into Yes votes," he says.
His analysis is supported by the fact that Turkey decided to stop sending Cabinet ministers to campaign in Europe in late March but now, in the second week of April, Erdogan is still banging the anti-European drum.
"The West is openly carrying the No campaign on their state television channels and newspaper headlines," Erdogan told a rally in the central province of Corum on Monday (10 April).
"The best answer will be given to them by our brothers through the polls," he said, referring to the Turks in Europe who have voted in consulates.
Ergil said Erdogan's "Nazi" slur has a motive besides whipping up nationalism: it distracts attention from the increasing authoritarianism in Turkey.
"While Turkish ministers are barred from speaking in Europe, there are many people who are barred from speaking freely against the Yes vote in Turkey," Ergil said.
The leaders of the 'No'-supporting People's Democratic Party (HDP) and the editor-in-chief of the 'No'-supporting Cumhurriyet newspaper have been detained for months on charges of terrorism. And when the well-known TV journalist, Irfan Degirmenci, and TV actor, Shevket Choruh, declared they would vote No, they were fired.
But the cry of "Nazi" did not sway voters in Diyarbakir, the unofficial capital of Turkey's 15 million Kurds, who heavily support the No vote.
"Erdogan used the crisis (with Germany and Netherlands) to provoke voters, but people in Diyarbakir knew it was artificial," said Salih Baydur, a former municipal official, sitting in a tea garden. "Even the most uneducated person in Diyarbakir knows the crisis was a game."
Article contributed by Jasper Mortimer