Greece's island refugee camps buckle under the strain
Comments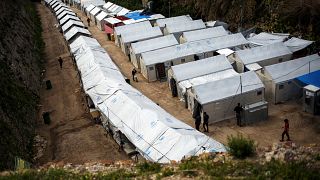 Souda refugee camp on Chios is one of two camps on the Greek Island. Around 800 people live in a tented city. Most of them are from Syria. The rest are migrants from North Africa, Afghanistan and Iran. All of them escaped the Turkish coast in the region of Cesme, on the other side of the Aegean sea and visible from the shoreline.
According to the EU refugee deal, the number of migrants from Turkey to Chios was planned to decrease by 25 %. But official UN Refugee Agency data shows an increase. In February there were 270 arrivals, in March over 800.
This is a worrying trend for the 51,000 inhabitants and the mayor of Chios, Emmanouil Vournous.
"Maybe it is the weather, maybe it has political reasons. I am not so interested in why this is happening. I know what is happening and this is very hard for the locals and the refugees and immigrants as well. I can not be complaining or saying things about what Turkey is doing. Turkey is an independent state. It is acting by itself. We in the EU, we should have our own policy," he says.
Volunteer with the #RLCs in #Greece! Refugee Law Clinic #Chioshttps://t.co/flZw2Bxh7A

— Refugee Law Clinics (@LawClinics) April 11, 2017
The two camps are full. Living conditions have become unbearable. The Asylum procedure is a bureaucratic process that forces the migrants to wait here for many months. There are more and more protests, riots and stabbing incidents in the camps. People are frustrated.
"The food is not good," says one man. "What we drink is not good. And the hospitals are bad."
One Syrian refugee who set himself on fire here on Chios just a week ago in protest has reportedly died of his injuries.
"It is a very dangerous place," agrees one of his compatriots.
"My story: I got stabbed here by a knife. Three times," says Majid. "One in the heart, one in my back, one in my leg. Three times. I stayed in the hospital for 15 days. The UN didn't come to visit me."
#vial#euturkeyagreement more than 3,500 people in limbo on the island of #Chios#refugeecrisispic.twitter.com/J5wcrxbrmR

— Sofia Kouvelaki (@SofiaKouvelaki) April 7, 2017
Majid is 25 years old and a migrant from Sudan. He came here three months ago. His family is still in Turkey, caught five times already by the Turkish police in Cesme, on the Anatolian coast only eight kilometres off Chios .
Turkey has strict policies it says it is applying, and the authorities in Cesme are claiming to take very seriously.
"Unfortunately escapes are happening from here. But as a state, we try to prevent this with our security forces and coast guards every time. Every day we try to collect them before they are on the sea and we collect them from the sea," insists Mayor Muhittin Dalgic.
"Turkish politicians have already threatened to tear up the refugee deal and even send up to 15,000 refugees a month into Europe. The refugees and also the Greek authorities here in Chios are complaining about the living conditions in the camps and the resources definitely are at their limits," reports euronews' Senada Sokollu.