360°: The reinvention of France
Comments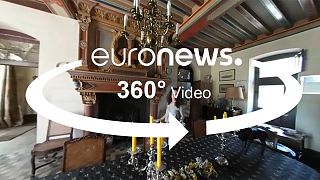 "It is essential that France gets its identity back. France is not only the country of luxury bags, good food and human rights."
France must regain its strength if it regains its identity.

Château owner
Helping France rediscover its roots should be the key task for the next president. At least if you ask Isaure de Sainte-Marie, a young castle owner from the French Loire valley.
With the French elections just around the corner, euronews is visiting citizens across the country. In cooperation with local media and armed with a 360 degree camera, we try to understand the individuals who make up the French electorate.
In this fifth episode we travel to a more than 500-year-old castle. Isaure de Sainte-Marie has a background in literature and has spent a third of her life in Latin America, but today she owns and runs Château de Troussay.
What are the roots that she thinks France needs to rediscover?
Its sense of beauty, its intimate relationship with nature, and its affinity for deep thinking.
Producer: Olivier Péguy, euronews; in association with Valérie Pernette, La Nouvelle République
Editor: Emma Belay
Euronews powered by Google News Lab