Sex trafficking victims are getting the best revenge
Comments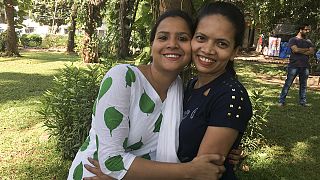 Survivors of child prostitution and sex trafficking are being given the chance to get justice – by learning to become lawyers.
An anti-trafficking charity in India has opened a school dedicated to helping rescued girls and women study law.
Free A Girl Movement  said traffickers in the country rarely face prosecution.
#SchoolForJustice is where victims of #childprostitution are being trained to become the best lawyers in #Indiahttps://t.co/lnp9bTSYo4

— Free a Girl Movement (@School4Justice) April 6, 2017
"That is about to change," the charity said.
"Free A Girl Movement started the School for Justice.
"A school where rescued girls are educated to become the best lawyers and prosecuters in the country – to put everyone involved in child prostitution behind bars.
"And believe us – they are passionate to do so. "
The School for Justice is a five year programme that will guide women through the college admission process and cover their education and living expenses.
Of an estimated 20 million commercial sex workers in India 16 million women and girls are victims of sex trafficking, according to campaigners.
But fewer than two in five trafficking cases ends in a conviction.
We're about to start a revolutionary new project in India to help the survivors of child prostitution to fight back! #FreeaGirlMovementpic.twitter.com/ioVWRItl7G

— Free a Girl Movement (@School4Justice) March 30, 2017
Among the first 20 students to take part in the programme is Ishika, who was sold by her parents to a brothel in Calcutta at the age of just six.
"I will become a lawyer and take up cases of trafficking victims and fight them effectively," she told the Thomson Reuters Foundation.
Ishika, who asked to be identified only by her first name, added: "I was rescued 13 years ago but my case is still going on.
Meet the Class of 2017 from the #SchoolForJusticepic.twitter.com/tyUgWbgYvy

— Free a Girl Movement (@School4Justice) April 6, 2017
"I often feel I am the accused and not the victim.
"I do not want other trafficking victims to go through this."
Ishika has already started studying English and mathematics in preparation for entrance the exam to a law college, which she hopes will one day help her win her case.
"The brothel madam and my trafficker have remained free all these years that I have spent at a shelter home.
"I want traffickers to fear the law, and me."