Japan issues 'strong protest' over N.Korea missile launch
Comments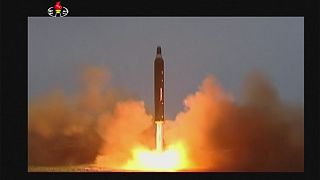 North Korea has fired another ballistic missile into the Sea of Japan according to both US and South Korean officials.
It is the latest in a series of tests – it attempted a similar launch two weeks a go and earlier in March fired four missiles some of which came as close as 300km to Japan's coast
Tokyo has once again protested.
Japan's chief cabinet secretary said his government could not tolerate North Korea's repeated provocative acts.
The North is believed to be developing an intercontinental ballistic missile (ICBM) that can hit the United States and its leader, Kim Jong Un, has vowed to test-launch one at any time.
Experts and officials in the South and the United States believe Pyongyang is still some time away from mastering all the technology needed for an operational ICBM system, such as re-entry of the atmosphere and subsequent missile guidance.
The latest launch comes as China's President Xi Jinping is en route to Florida for a summit later this week with US President Donald Trump. The two are likely to discuss how to reign in Pyongyang's nuclear programme.
The North is banned from any missile or nuclear tests by the UN.
Trump administration to China on North Korea: "The clock has run out" https://t.co/cZLEzblQ6bpic.twitter.com/DK7O05zLKM

—

CBS

News (@CBSNews) April 5, 2017