Donald Tusk: "No one is interested in punishing Greece"
Comments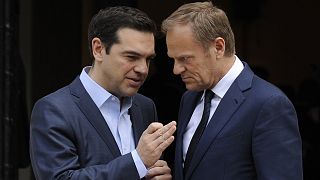 New attempts are being made to kick-start Greek bailout talks that have been delayed for months, freezing loan installments.
European Council President Donald Tusk has been in Athens, where Prime Minister Alexis Tsipras has called for an emergency EU summit if no agreement is reached in a Eurogroup meeting in Malta on Friday.
Tsipras said: "I think the initiative will have to be taken at the higher level to have a positive outcome before Easter, in any case in April, even if this means calling a euro area summit.
"But this endless negotiation must come to an end."
Donald Tusk said in a joint media conference with Tsipras: "No one is interested in punishing Greece.
"Our only goal yesterday and today, and also tomorrow, is to help Greece.
"You know that the crisis itself is punitive enough."
Tusk said he was confident a deal was close, saying there is "no political alternative".
"Our finance ministers should do the work to achieve an agreement. This is the only positive result for Greece and for the whole community," he added.
"We are close to concluding this demanding procedure."
Some say the hold-up is hurting the chances of Greece bouncing back from years of recession.
Napoleon Maravegias, a professor of economics in Athens, told Euronews: "The delay in the negotiations, regardless of who is to blame, creates even bigger problems because it sinks the Greek economy deeper into the recession.
"And on the other hand, there is a danger that the country's lenders will demand more austerity if the macroeconomic indicators deteriorate."
Euronews' correspondent Stamatis Giannisis reported: "The Greek government is accusing the country's lenders of exercising excessive pressure in order to impose more austerity measures.
"And meanwhile any further delays in reaching an agreement brings Greece even closer to the need for a new bailout."