Australian Police seize record haul of crystal meth
Comments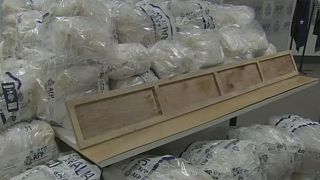 Australian Police have made the largest ever seizure of crystal methamphetamine in the country's history.
The record 903kg haul is valued at over 630 million euros, the Australian Federal Police said in a statement.
It's the equivalent of almost nine million hits of the drug, also known as ice.
Justice Minister Michael Keenan said Australia is facing a serious epidemic over the drug, confirmed by recent testing of water waste in the country.
Record Meth seizure – Great job AFP Melbourne, Victoria Police and our partners. Total value $900m. pic.twitter.com/1pIjNvfUIo

— Andrew Colvin (@AFPCommissioner) April 4, 2017
He said: "We are all very proud to announce Australian law enforcement, acting in cooperation, have been responsible for the largest seizure of crystal methamphetamine or 'ice' in Australia's history.
"We know in Australia that we have a very serious problem with illicit drugs, and that's been confirmed by the wastewater analysis that we released last week.
"And of all the drugs, ice represents the most serious epidemic that we have faced in Australia's history."
AFP and Victoria police have seized 903kgs of meth https://t.co/izZDeuUwiA

—

AFP

National Media (@AFPmedia) April 4, 2017
The drugs were concealed between floorboards in a shipment sent to Melbourne.
They are believed to have been smuggled in to the country from China.
Police say two Australian men, aged 53 and 36, had been charged with commercial drug trafficking and face a potential life prison sentence if convicted.
Police are searching for another two suspects in Melbourne.
More info on the recent record meth seizure – https://t.co/xngUgNNlPz#AusFedPolicepic.twitter.com/JiGaXL2qpQ

—

AFP

National Media (@AFPmedia) April 5, 2017
Prime Minister Malcolm Turnbull said: "Our response to ice is ruthless interception of trafficking, of smuggling, of dealing.
"We are working domestically and internationally to catch these merchants of death, these people who traffic in ice, to catch them and intercept their deadly cargoes and we're successful in doing that.
"At the same time, we're working with compassion with the community and with people who have become subject to ice addiction to help them."
Mr Turnbull created a national taskforce in 2015 to tackle growing use of the drug in Australia.
The previous largest haul of the increasingly popular drug was almost 880 kilograms, seized in Sydney in November 2014.
"Treating Australia's ice 'epidemic' as a criminal problem rather than health issue makes the problem worse" -study https://t.co/7EqDzhwO9Epic.twitter.com/v5UheVtYEB

— Au Science Media Ctr (@AusSMC) February 27, 2017