Protesters keep up pressure on Paraguay's government
Comments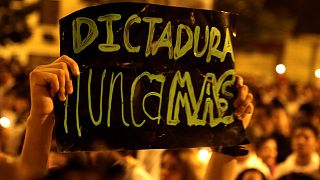 There is anger on the streets of Paraguay, with protesters again gathering outside the Congress.
Demonstrations continue after a vote in the Senate last week to amend the constitution, which would enable the country's president to run for re-election.
Some protesters yelled: "Not another dictatorship."
Supporters of President Horacio Cartes want him to run for a second term but that has been forbidden ever since the fall of a 35-year dictatorship in 1989.
The change still has to be approved in the lower house.
One protester, Milciades Ferreira, said: "Paraguay needs freedom. We need to live well and in peace, and our constitution must be respected.
"Our rights as citizens must be respected and especially those of the Paraguayan people."
On Friday Congress was stormed and set alight after news that Senators called a voting session behind closed doors instead of on the Senate floor.
One protester was shot and killed.