Hungary's parliament passes controversial bill targeting Soros-founded university
Comments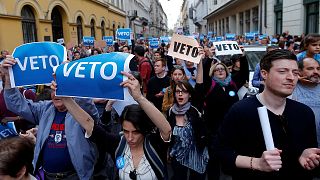 Against a backdrop of protests Hungary's parliament has passed a new law which critics say targets a university founded by billionaire George Soros.
The 199-seat assembly voted 123 to 38 in support of the draft legislation, which passes tough new restrictions on foreign universities.
Defending the fast-tracked bill, the Hungarian government minister Zoltan Balog said: ''To operate under this new law is not impossible. It applies to everyone and we expect everyone to comply. Even the organisations of George Soros should not be above the law in Hungary.''
Budapest's Central European University (CEU), which was founded by Soros and considered a bastion of liberalism, is thought to be the main target of the new law.
Staff and students fear the school could be forced to close.
"It was clearly an intention to pass this law as soon as possible and without listening to anybody, without listening to Hungarian citizens, Hungarian academics, Hungarian universities, without listening to international organizations, they didn't listen to anyone,'' Deputy Vice-Chancellor Liviu Matei said.
Under the new law foreign universities must have a campus both in the capital and their home country, something CEU doesn't have.
Following the approved law protesters surrounded the university in support of the Soros founded school holding 'Veto' signs.
Reporting from Budapest Euronews' Andrea Hajagos said: "Many protesters have brought signs with the word 'Veto'. That's because they want Hungary's president to use his veto and not sign the new law which has been passed by parliament.''