Germany is finally granted a consular visit to jailed 'Die Welt' journalist
Comments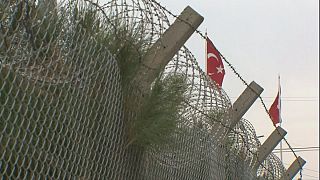 Germany's consular general in Istanbul has been allowed a one-off visit with jailed journalist Deniz Yucel – the first since he was detained by the Turkish authorities in mid February on terror propaganda charges.
Yucel who has duel Turkish/German nationality and works for the German newspaper "Die Welt" has denied the charges, as has the paper.
German officials meet Die Welt reporter detained in Turkey https://t.co/YVSjIw6osupic.twitter.com/2gBj33HLqm

— Breaking News (@NewsfeedTr) April 4, 2017
German Minister of State Michael Roth said he had been told that Yucel is being held in solitary confinement which continues to be stressful for him, but that the German government will continue to work towards Yucel's release.
"Rule of law, democracy and press freedom played a large role in all conversations. And I emphasised once more that it's not just about the case of Deniz Yucel which is of special concern to the German public, but that it is about the situation of journalists in Turkey in general," said Roth.
Cumhuriyet
Prosecutors in Turkey are currently seeking jail terms of up to 43 years for 19 journalists and employees of the opposition daily Cumhuriyet.
The journalists, most of whom have been held in jail for the last five months, are accused of membership of a banned "terror group" and aiding outlawed organisations.
Cumhuriyet's former editor-in-chief, Can Dundar was last year handed a five year jail term and has now fled to Germany over a story accusing the government of sending weapons to Syria.
Turkey's oldest national daily newspaper, the staunchly secular Cumhuriyet daily has been a thorn in Erdogan's side in recent months as the president seeks to expand his powers in an April 16 referendum.
The cases add to Europe-led concerns over press freedom in the country under President Recep Tayyip Erdogan.
His relations with several EU countries continue to be strained with the Turkish leader vowing to keep describing some as "fascists" if they maintain their attitude against Turkey.
Erdogan has repeatedly lashed out at European countries including Germany in campaigning for the April 16 referendum, accusing them of "Nazi-like" tactics for banning his ministers from speaking to rallies of Turkish voters abroad.
Teşekkürler Zonguldak! pic.twitter.com/fxwogHLKhy

— Recep Tayyip Erdoğan (@RT_Erdogan) April 4, 2017