ISIL's number two reportedly killed
Comments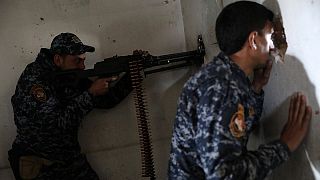 According to an Iraqi intelligence spokesperson, ISIL's deputy leader, Ayad al-Jumaili, was killed in an airstrike on Friday 31st March.
BREAKING: Deputy of Baghdadi 'Ayad al-Jumaili' is killed in an Iraqi airstrike. Included other airstrike from today for comparison pic.twitter.com/wHyPQT2qsQ

—

SOG

:

GEOINT

/CQB/H2H (@UZIEL_CQC) April 1, 2017
Al-Jumaili was reportedly killed with other Islamic State commanders in a strike carried out by the Iraqi air force in the region of al-Qaim, near the Syrian border.
Ayad al-Jumaili, #ISIS Deputy leader in #Iraq, Killed with other ISIS commanders in an airstrike near #Syrian border https://t.co/rJttL2hSYypic.twitter.com/VQNynrL5RS

— Adam Milstein (@AdamMilstein) April 1, 2017
Iraqi forces, backed by a U.S.-led coalition, have been battling to retake the city of Mosul since October. It is the so called Islamic State's last major stronghold in Iraq and the city where their leader Abu Bakr Al Baghdadi declared a caliphate nearly three years ago. Jumaili, who was an intelligence officer under Saddam Hussein, led ISIL's top security agency in Iraq and Syria, known as Amniya. Experts say he answered directly to Baghdadi.
#Iraq – Girl in #Mosul pleads for help after US airstrike: "My brother is gone! Uncle, please help! My brother has been blown to pieces!" pic.twitter.com/PlWipl5sgA

—

DOAM

(@doamuslims) April 1, 2017
Civillians have been forced to endure unimaginable suffering. According to the United Nations nearly 290,000 people have fled the city to escape the fighting. One resident at th Hamam al-Alil camp, in South Mosul told reporters:
"We escaped the airstrikes, food shortages and sieges by the Daesh. One kilogram of wheat was worth 1 million Iraqi Dinar (€800) and one kilogram of sugar cost 25 thousand Dinar (€20). ISIL have humiliated us.We have never seen a war like this."
#Mosul airstrike victims: 4 yr-old girl, man buried for 5 days, pregnant 19 yr-old and man who might lose his leg. https://t.co/jigIXlkYDjpic.twitter.com/jHO5uuck7l

— Marcus Yam (@yamphoto) April 1, 2017
In mid-March, Iraqi authorities said more than 130 civilians were killed in strikes in Mosul's al-Jadida area. Other estimates put the figure at 400. The United states and Belgium are opening investigations into their airstrikes.
Media Downplays America's Bombing of Civilians in Mosul https://t.co/lswbFXZtkupic.twitter.com/i0zzfjlyCn

— PMbeers (@PMbeers) April 1, 2017
Even if Mosul is retaken from ISIL, U.S. and Iraqi officials expect the group to go underground and fight an insurgency like the one which followed the US-led invasion.