Hawaii judge puts indefinite block on Trump travel ban 2.0
Comments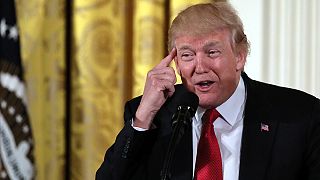 A Hawaii judge has put an indefinite halt on US President Donald Trump's revised travel ban.
The constitution is [...] supposed to protect everyone in the nation.

Hawaii Attorney General
Justice Derrick Watson's ruling means the executive order restricting travel from six mainly-Muslim countries must be put on hold while it is contested in court.
The countries listed in the order are: Iran, Libya, Somalia, Sudan, Syria and Yemen.
Attorney General Douglas Chin said the constitution should protect everyone, not simply most people.
"The constitution is actually meant to not protect the majority of the nation, it is supposed to protect everyone in the nation."
He went on the refer to the 'Establishment Clause' – otherwise known as the 'Religion Clause' – part of the First Amendment, which states:
"Congress shall make no law respecting an establishment or religion, or prohibiting the free exercise thereof…"
"It's not unusual at all in an establishment clause case to only have a few number of people that are affected by that, but because their freedom of religion is being threatened, then that is enough to raise a constitutional violation," Chin told reporters outside the court house.
"The court will not crawl into a corner, pull the shutters closed, and pretend it has not seen what it has." https://t.co/v9WZimvAQb

— Hawaii AG (@AtghIgov) March 30, 2017
Trump claims the ban seeks to prevent terrorists from entering the US. However, the state of Hawaii argues it will be harmful to tourism and says the implied message in the controversial order is like a "neon sign flashing 'Muslim ban, Muslim ban'."
Trump has said the new order is a "watered down" version of the initial ban, to which Chin responded in court, "We cannot fault the president for being politically incorrect, but we do fault him for being constitutionally incorrect."
The ban was initially planned to come into effect on March 16. Hours beforehand, Judge Watson prevented Trump's administration from suspending new visas for the six nations listed and from freezing the US' refugee programme.
At the time, the president labelled the decision an example of "unprecedented judicial overreach."
A hearing to consider a government appeal is scheduled to take place on May 8 at the US Court of Appeals for the Fourth Circuit.