President Putin visits Arctic as Russia reasserts claims
Comments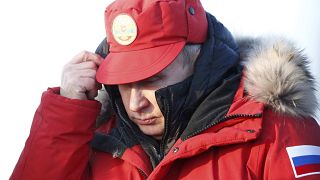 On the same day as an international summit began on the Arctic, president Vladimir Putin has visited the desolate Franz Josef Land archipelago, reaffirming Moscow's claim to the region.
He is to go to the northern Russian city of Arkhangelsk on Thursday for the international meeting on how to develop the inhospitable Arctic ocean.
Putin has said he remains open to mutually beneficial partnerships with other countries to tap into the region's resources.
Along with Russia, several states, including the US, Canada, Denmark and Norway are vying for jurisdiction over parts of the Arctic as shrinking polar ice opens up new opportunities for exploration.
The region is thought to hold up to one quarter of the planet's undiscovered oil and gas reserves and in 2015 Russia submitted a revised claim to the UN for vast territories there.
Since then, several oil giants, such as Shell and Conoco Phillips, have abandoned their Arctic drilling operations given the cost of exploration and the environmental risks.