JFK calls Hitler "stuff of legends" in early diary
Comments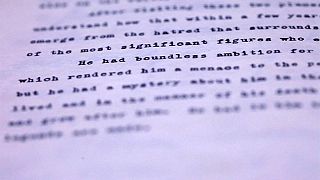 A diary kept by a young John F.Kennedy during his brief spell as a journalist travelling in post-war Europe, is up for auction.
The 61 pages provide insights into Kennedy's thoughts on world leaders of the era including a fascination with Adolf Hitler.
It is thought to be the only diary ever kept by the 35th US President and was given by him to his research assistant Deidre Henderson in his campaign office in the late 1950s.
The executive vice president of RR Auction, Bobby Livingston said some of the most interesting things are what Kennedy writes about Hitler:
"He (Kennedy)says: 'After visiting these two places, you can easily understand how that within a few years Hitler will emerge from the hatred that surrounds him now as one of the most significant figures who ever lived….He had in him the stuff of which legends are made'."
JFK Diary: No Complete Evidence Body Found Was Hitler's https://t.co/hiyHmX7d76https://t.co/RmtLOREZdA

— 96thealtproject (@96thealtproject) March 28, 2017
Accusations that the entries glorify Hitler have been countered by Henderson who says JFK recognised the menace Hitler was to world peace and was writing his understanding of Hitler's longer term place in history.
The diary covers from 1945 and 1946. It was then when JFK was aged 28 that he became a correspondent for Hearst newspapers:
"In 1945, right after the war, he got hired to be a Hearst journalist and he went, if you can believe it, to the very first meeting of the United Nations and then on to Europe where the Nazis had just been defeated and he tours all around Europe and he writes about what he sees and also he transitions and he comes back to America and he begins to run for Congress. So it covers an incredible historic period," added Livingston.
The diary is expected to fetch about 200,000 dollars when it is auctioned in Boston next month.