There will be no breakaway Super League - Uefa boss Ceferin
Comments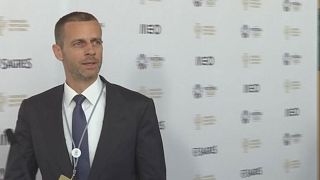 Uefa President Aleksander Ceferin said on Wednesday there will be no continental Super League whilst he is in charge of European football's governing body.
For some years now, a few of Europe's top clubs have toyed with the idea of creating a rival competition to the Champions League.
But Ceferin, who was speaking at the Football Talks Conference in Estoril, Portugal, said this would not materialise on his watch.
The 49-year-old Slovenian said: "I'm sure there will not be any Super League. It would mean a war against UEFA. But nobody can guarantee that. But as long as I will be there (as UEFA President) there will be no Super League. It has to remain the same in terms of access and format, because it has to be a dream for everybody to qualify for the Champions League. It cannot be a closed competition."
Discussions on the creation of a break-away competition started in the late 1990's, but have escalated in recent years with Real Madrid, Barcelona, Bayern Munich, Juventus and Paris Saint Germain leading the push.
In an attempt to appease these European heavyweights Uefa is to guarantee, from 2018, the continent's top four leagues, England, Germany, Spain and Italy, four spots in Europe's top club competition.