Uproar in New Zealand after sniffer dog shot
Comments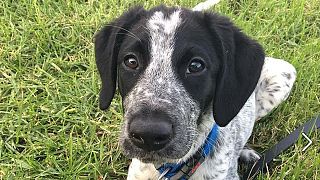 There is uproar in New Zealand after a runaway sniffer dog was shot dead by police on the tarmac at Auckland Airport.
I think it was just freaked out

Aviation Security Service
Sixteen domestic and international flights were delayed for safety reasons at the nation's busiest airport while the animal was on the loose for three hours.
Unfortunately an Aviation Security dog was shot this morn AKL_Airport</a> staff had tried for 3 hours to catch it our thoughts are with handler</p>— Auckland Airport (AKL_Airport) March 16, 2017
"What happened?"
A police marksman shot and killed the 10-month-old bearded collie and German short-haired pointer cross called Grizzly (Grizz for short).
Unfortunately still delays AKL_Airport</a> due to dog on our airfield updates to follow</p>— Auckland Airport (AKL_Airport) March 16, 2017
Update dog that was on the airfield at AKL_Airport has now been caught

— Auckland Airport (@AKL_Airport) March 16, 2017
Security dog shot dead at Auckland airport: https://t.co/PcgGrSkui6#RIPGrizzpic.twitter.com/cjNFfd2iCr

— Dogs Today (@Dogs_Today) March 17, 2017
Officials say Grizzly was a police dog in training to detect explosives but escaped from its handler.
"Of course, it was dark for most of the time it was on the run, they tried everything they could, but just could not lure the dog back, I think it was just freaked out," said Mike Richards, a spokesperson for New Zealand's Aviation Security Service.
"Why was the dog shot?"
"The dog was clearly distressed and would not let anyone near it so the decision was made to shoot the dog," an airport spokeswoman told reporters.
"Why is there uproar?"
Some are saying the authorities had no choice but to shoot the dog as it could not be recaptured and was a danger risk, as well as affecting business at the airport.
"Any animal or any object that is running around on the outer perimeters and can get onto the main runway is a safety issue and it is quite a danger. Smaller aircraft hitting an object like that could be quite catastrophic on takeoff and landing," said aviation commentator, Peter Clark
However, animal activists are angry.
"We don't believe it was a last resort because I haven't seen the tranquiliser gun being mentioned at all. I think that was clearly possible. They were chasing it for many hours," said Hans Kriek, the Executive Director of anaimal rights group, SAFE