Ancient Egyptian statue not Ramses II but Psamtek I
Comments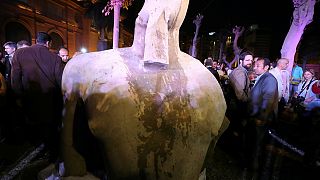 An statue discovered in the mud on the site of the ancient Egyptian capital of Heliopolis, is not Pharaoh Ramses II but King Psamtek I, who ruled between 664 and 610 BC.
Ancient Egyptian Pharaoh statue not Ramses II, but Psamtek I https://t.co/o0Ih7WhO8h (Pic: Reuters) pic.twitter.com/QtH8MktUV2

—

ABC

News (@abcnews) March 17, 2017
Initially archaeologists thought it was Ramses II, until one Psamtek's five names was found engraved on the statue.
Khaled Abu Alela is from the Egyptian Ministry of Antiquities:"The size of this statue shows the magnitude of the temple in ancient Egypt, because the statues length is about 8 meters, which means that the temple gate was at least 15 meters high."
The statue was uncovered by an
Egyptian-German archaeological team, and was partially submerged in water.
The huge effigy had split into a number of parts, the body alone weighs three tonnes.
Psamtek I, is thought to have brought stability to Egypt after years of turmoil, he ruled some 600 years after Ramses II and sat on Egypt's throne for about 50 years.
Euronews reporter Mohammed Shaikhibrahim is in the Egyptian capital Cairo:
"Many ruins from ancient Egypt are still buried underground. One of the most successful civilisations known to humankind utilise symbols and secrets that remain a mystery."