Syria war: 6 years; 5 million refugees; 400,000 dead
Comments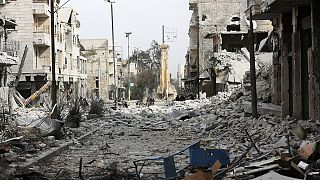 Syria's civil war has raged on for six years. The UN children's agency says a record number of children were killed in Syria last year. More than a third of them in or near a school.
Fighting in Syria has claimed the lives of between 300,000 and 400,000 people.
Before the war, Syria's population was 22 million.
Today, half of those people have fled their homes and more than 13 million people are in urgent need of assistance.
Nearly five million Syrians have fled to neighbouring countries.
Turkey hosts more than 2.7 million.Hundreds of thousands of others are in Lebanon and Jordan.
At least 800,000 have applied for asylum in Europe.
Women and children make up three-quarters of the refugees. Not everybody flees the country. Many stay in Syria, which is highly risky, especially for the very young.
2016 was the worst year for Syrian children. At least 650 were killed, that figure is up on the previous year.
Many more were recruited to fight.
Other children are dying from preventable diseases. The conflict makes it difficult to access medical care and lifesaving supplies.
More than 300 hospitals were targeted by attacks last year.
Children are often forced into early marriage or child labour to help their families.
About one million people are trapped in besieged areas in Syria with no aid. Siege and starvation continue to be used as weapons of war.
Last December, around 600-thousand people in Aleppo were still deprived of regular access to a water supply.
#Refugees are struggling to survive on the Greek islands, trapped by inhumane EU policies. Act now: https://t.co/Cxo4qsylON#IWelcomepic.twitter.com/HqLcbro867

— Amnesty Ireland (@AmnestyIreland) March 14, 2017