EU leaders hit back at Erdogan as Turkey threatens migrant deal
Comments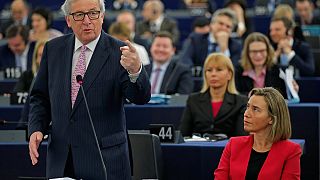 EU leaders have staunchly backed the Netherlands in its diplomatic row with Turkey.
I will never accept this comparison between the Nazis and (today's) governments

European Commission President
After President Erdogan compared two prominent EU countries to the Third Reich, Jean-Claude Juncker reminded the European Parliament of what the Nazis were really about – describing how his family and home country Luxembourg had suffered during the war.
"I was scandalised by what was said coming from Turkey, on the Netherlands, on Germany, and on others. I will never accept this comparison between the Nazis and the now (today's) governments," the Commission President told the parliamentary session in Strasbourg.
"This is totally unacceptable, and the one who is doing this is taking distance from Europe, and not trying to enter the European Union. The European Union is not joining Turkey, Turkey is joining the European Union," he added, referring to Ankara's long-term bid to join the bloc.
I will never accept comparison between Nazis & governments currently in power. #Turkey is distancing itself from EU. https://t.co/u5Oo1AMJACpic.twitter.com/ZCbr9nMFXf

— Jean-Claude Juncker (@JunckerEU) March 15, 2017
The Turkish president has also branded the Netherlands a "banana republic" in calling for sanctions against the EU country, and said the Dutch were to blame for the Srebrenica massacre in the Balkans war.
European Council President Donald Tusk joined in the criticism in his Strasbourg address, implying that Erdogan was "completely detached from reality", without mentioning the Turkish president or his country by name.
Rotterdam destroyed by Nazis. Today w/ Moroccan-born mayor. Anyone seeing fascism there is detached from reality. We are Europeans & proud.

— Donald Tusk (@eucopresident) March 15, 2017
Turkey is clearly still rankled by the bans on Turkish ministers from addressing rallies in the Netherlands and Germany.
It is also accusing the EU of failing to keep any of its promises over the migrant deal, citing in particular visa-free travel for Turks in Europe.
"If you look carefully, the European Union always talks about co-operating in the fight against terrorism and managing the migrant crisis. They cover up the other issues. When we look at the obligations EU should have fulfilled I don't see any reason why Turkey should maintain the migrant deal," Turkey's European Affairs Minister Omer Celik told Reuters on Tuesday evening.
He added that this had nothing to do with the Dutch row.
Under the accord struck a year ago, Turkey agreed to take back failed asylum seekers from the EU in exchange for aid and political concessions.
With Turkish-EU relations in crisis amid the escalating war of words, the migrant deal may be in jeopardy.
A spokeswoman for the Commission responded to Ankara's comments, saying the European Union was committed to the deal.
Turkish FM: We'll take steps in refugee deal if visa liberalization not realized https://t.co/BLrAPx19orpic.twitter.com/VTvHcAOVfr

— Turkish Minute (@TurkishMinuteTM) March 15, 2017
Dutch election, what they say