Ferguson shooting: New video casts doubts on black teen's 'robbery bid'
Comments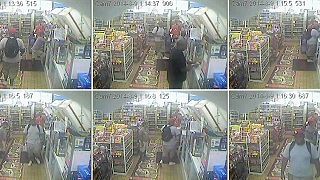 A newly-disclosed video disputes claims that black teenager Michael Brown had been trying to rob a convenience store before he was shot dead by a white police office in Ferguson, Missouri in 2014.
The footage, filmed at the same store hours earlier, has been released by documentary-maker Jason Pollock as part of his production 'Stranger Fruit'.
It shows a seemingly amicable encounter, with Brown giving store employees what appears to be a small bag, the contents of which the staff pass around and sniff.
One employee gives Brown two boxes of cigars in a carrier bag.
Brown takes a few steps away before turning back and handing the bag back to an employee who appears to stash it behind the counter.
Pollock says the video showed Brown exchanging marijuana for cigars and undermined the police account that Brown may have robbed the store.
"He left his items at the store and he went back the next day to pick them up," Pollock says in the documentary.
"Mike did not rob the store."
Mike Brown is a TOP TRENDING TOPIC WORLDWIDE! The truth is out. Mike didn't rob the store. My film #StrangerFruit tells the whole story. pic.twitter.com/pwygUC4CI8

— Jason Pollock (@Jason_Pollock) 12 mars 2017
However Robert McCulloch, the St. Louis County prosecuting attorney, dismissed Pollock's account as "pathetic."
"There was no transaction. There was certainly an attempt to barter for these goods, but the store employees had no involvement at all in that," McCulloch told a news conference on Monday.
The clerks did nothing wrong, he added, and were not safeguarding the cigars for Brown.
"You know I deal with being able to prove something beyond a reasonable doubt not what I am 'pretty sure' happened so I have no way of knowing right now what he put down on the table, whether it is a controlled substance or not," McCulloch said.
Previously unreleased surveillance video casts doubt on whether Michael Brown robbed a store before he was shot. https://t.co/ZdZVfdPbchpic.twitter.com/FQf16XA8sJ

— ABC News (@ABC) 13 mars 2017
Angry protests and a debate about how US police treat minorities followed Brown's death in 2014.
At the time, local police released separate security-camera video of the 18-year-old visiting the same store in the daytime, a few minutes before he was shot. That footage showed Brown pushing a worker before walking out with cigars, in what appeared to be a robbery.
Brown's family and protesters criticised the release of that video as an effort to demonise the teenager.
Witnesses have given conflicting accounts of Brown's encounter a short time later with police officer Darren Wilson who was later cleared of criminal wrongdoing by local and federal investigations.
About 100 protesters, who saw the new video as exonerating Brown, gathered on Sunday night at the store, which was protected by a couple of hundred police officers.