Isolated Poland's summit snub hints at rifts over EU's future
Comments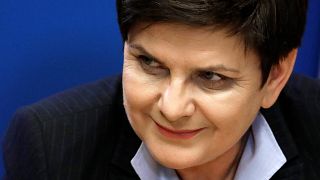 Poland's prime minister was given a hero's welcome on her return from Brussels. The President said she had defended the Polish cause, after Beata Sydlo had tried and failed to block the summit's conclusions.
It came in retaliation to the re-appointment of Donald Tusk, a former Polish prime minister, as EU Council president.
At the end of the summit she hit out at Western member states, saying: "Some European leaders from the old part of the European Union still have this conviction that they should be always right and the rest should listen to them and accept their solutions. That is not how it is going to be."
The snub could be a glimpse of a future multi-speed Europe, where certain countries can group together on specific projects, although Poland denounced different speeds as a way to leave some countries behind.
The show of disunity comes at a critical moment, with Brexit on the horizon. The Commission President preferred to accentuate the positive.
"A Brexit is not the end of the European Union, nor the end of all our developments, nor the end of our continental ambitions. I had the impression, when talking privately to colleagues and listening to the debate we had in the room, that by the contrary the Brexit issue is encouraging the others to continue. Unfortunately without the British."
London has battles to fight on home turf before it heads towards the exit. MPs are to debate the Brexit bill on Monday, with some analysts saying the prime minister could announce the triggering of Article 50 as early as Tuesday.