Top German diplomat Gabriel warns of new NATO-Russia arms race
Comments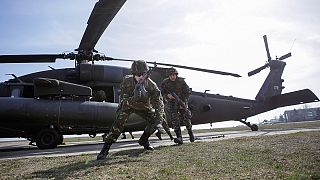 Concerned about a Russian military build up in the Baltic region and its western borders, Germany's top diplomat warned about a new arms race on Thursday.
Russia's stationing of ballistic nuclear-capable missiles in Kaliningrad was not raised by Sigmar Gabriel during a news conference with his counterpart, Sergei Lavrov.
But speaking on his first visit to Moscow as German foreign minister, Gabriel acknowledged Russian and NATO deployments.
"My worry is, as we face the debate on the size of the armed forces, for example, on Russia's side and in the Baltics and in Poland…the debate in the US about the exorbitant increase in its military budget, that we are again facing the danger of a new arms race spiral," he said.
German FM @sigmargabriel called for conventional disarmament during a meeting with Russian FM Sergei Lavrov https://t.co/z6vRm4jeCrpic.twitter.com/bFxpSkX2Uy

— dwnews (@dwnews) 9 mars 2017
The West and the Kremlin remain at odds over Ukraine.
Russia's annexation of Crimea in 2014 raised East-West tensions to their highest pitch in decades and NATO suspended all practical cooperation with Moscow in protest.
The Russian foreign minister wants to get back round the table but not to talk repeatedly about Ukraine.
"Let's sit down as part of the NATO-Russia Council. But instead of repeating pro-Ukrainian, pro-coup – as I would put it – claims, lets…start working on what it was created for," Lavrov said.
"Lets focus on European and Atlantic security."
#Lavrov refutes claims of Russia's disproportionate military buildup in West https://t.co/w3OUQaE2KRpic.twitter.com/Q4awOKT52J

— Sputnik (@SputnikInt) 9 mars 2017
Lavrov also urged Germany to abandon what he called 'groundless' claims about Russian cyber attacks.
And, with Wikileaks revelations about US spying in the headlines, Lavrov said he avoids having his smartphone with him when negotiating 'sensitive' subjects, so as not to be listened to by the CIA.