Fukushima towns cleared of wild boars
Comments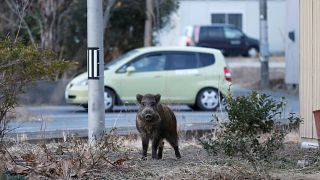 After residents were forced to flee their homes in Japan's Fukushima prefecture in 2011, wild boars moved in.
The animals took advantage of an earthquake and subsequent nuclear leak that left villages unoccupied to descend from mountain woodlands.
The boars cannot be eaten because they have consumed radioactive material around the damaged Fukushima power plant. They can also attack humans and pose a considerable risk to traffic.
Hunters have been employed to rid the area of the animals.