Pressure mounting on Arsenal boss Wenger
Comments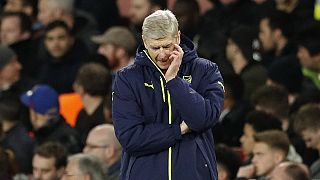 Arsenal's 5-1 drubbing in the Champions League by Bayern Munich on Tuesday evening has piled even more pressure on under-fire boss Arsene Wenger, whose future at the club past the current season appears in serious jeopardy.
Bayern Munich completed a 10-2 aggregate rout over the Gunners and supports are demanding change at the helm.
When asked by reporters what needs to change at the club a calm and collected Wenger said: "What needs to change at this club? What do you mean by that? I think this club is in great shape but is going through a very difficult situation at the moment. What needs to change is the result in the next game."
Wenger reportedly has a two-year deal on the table but he is yet to put pen to paper.
Prior to the last 16 tie Arsenal fans voiced their discontent and calling for that new contract to be scrapped.
Arsenal next face non-league side Lincoln in the FA Cup quarter-finals on Saturday and defeat would surely push Wenger closer to the exit door after 21 years at the club.