Alarm in Brussels over new Hungary asylum law
Comments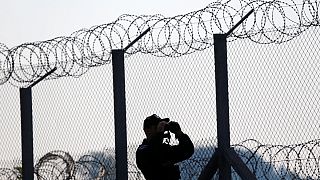 Hungary's hardline new asylum law has sent shockwaves through the European Parliament, with some MEPs calling for a plenary session to address it.
The legislation will see all asylum seekers entering Hungary confined in camps, where they may be held in shipping containers, while their applications are processed.
Hungarian Prime Minister Viktor Orban says the move will make all of Europe safer from terrorism.
But the new legislation has sparked an outcry in Brussels.
"I am very shocked and horrified," Sophia In't Veld, a Dutch liberal MEP, told euronews.
"Not only for the legal aspect, but think as a human being. Is this the way you would want to be treated if you were a refugee? 50 years ago there were Hungarian refugees. They were not locked up in containers, they were not attacked, they were not subject to violence.
"It is about time that the European Commission acts. Clearly random or blanket detention of asylum seekers is a violation of the law."
In recent weeks there have been a number of reports of Hungarian police brutality at the border.
Medicins san Frontiers (MSF) in Serbia published photos that it says show migrants that were injured by Hungarian police before being turned back to Serbia.
Some of the injuries were caused by police dogs, the MSF said.
"We were in a group of 25 #people. We heard another group of 75 #people ahead of us was beaten for 4 and half hours." #Hungary#Serbiapic.twitter.com/DeA5whbCxg

—

MSF

Sea (@MSF_Sea) February 25, 2017
The Hungarian government denies the allegations of police brutality and says the priority of the new law is safeguarding the security of the Hungarian people.
"I think that the Hungarian government, and now also the Hungarian parliament, with every step that they take are distancing themselves more and more from the values of the European Union. And I think this is a very, very dangerous development," Austrian centre-left MEP Eugen Freund told euronews.