Ukraine-Russia court battle over 'terrorism' claims
Comments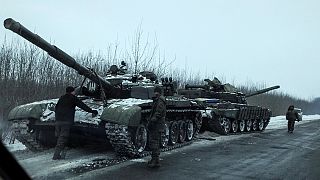 Kyiv has taken Moscow to the International Court of Justice over the conflict in eastern Ukraine and Crimea.
I want the world to understand that there wasn't any annexation

Sevastopol resident
In a case that started on Monday, it accuses Russia of violating UN anti-terrorism and anti-discrimination conventions.
Ukraine says separatist forces, backed by Russia, have carried out terrorist acts including the downing of Malaysian Airlines flight MH17 in 2014, which killed 298 passengers and crew.
It also accuses Russia of illegally annexing Crimea.
REMINDER: #ICJ hearings in #Ukraine v. #Russia Case open on Monday 6 March at 10 am (The Hague) https://t.co/bygSbqEo2a . Live @UNwebcastpic.twitter.com/RadA1K7PDY

— CIJ_ICJ (@CIJ_ICJ) 3 mars 2017
"Today I stand before the World Court to request protection of the basic human rights of Ukrainian people," Ukrainian Deputy Foreign Minister Olena Zerkal said on the first of four days of hearings.
Zerkal requested an immediate court order to stop what she called Russia's abuses until the judges have heard the case in full. The UN court takes years to hear cases.
International Relations Professor Andrea Stavitskiy from the Moscow State University branch in Sevastopol, believes the ruling by the UN's highest court could be significant.
"All the talk about Crimea's return to Russia being a bad thing hasn't yet had any legal proof," he said.
"The Hague tribunal can solve that issue, giving the West a sort of 'legal proof' of accusations that Russia is an aggressor and Putin is a tyrant."
Despite Ukraine's claims of Russian racial discrimination, notably against Crimea's minority ethnic Tatars, some people in the Black Sea peninsula spoke out strongly in favour of Moscow.
"I want the world to understand that there wasn't any annexation," said Sevastopol resident Lada Litvak.
"It was the legitimate will of the Crimean people. We really wanted to return to Russia and we managed to achieve it."
"I think the Hague tribunal should dismiss Ukraine's claim," added Aza Azamatova, another resident of Crimea.
But Ukrainian President Petro Poroshenko took to Facebook, making no secret of his feelings on the matter.
Russia has repeatedly denied sending troops or military equipment to eastern Ukraine. It also denies downing MH17.
The UN court's rulings are final and binding. But it has no means of enforcement.
with Reuters