ISIL's Raqqa supply route severed - reports
Comments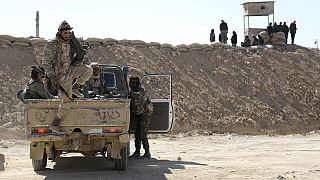 There has reportedly been a strategic advance in the fight against ISIL in Syria.
US-backed militias operating in the country say they have cut the road between the jihadist-held city of Raqqa and militant strongholds in Deir al-Zoor province.
The announcement comes from a Kurdish military source and the UK-based Syrian Observatory for Human Rights.
What does this mean?
If confirmed, the advance by the US-backed Syrian Democratic Forces (SDF) means all land routes out of Raqqa are now cut.
The only way out is south, across the Euphrates River.
The SDF includes the Kurdish YPG militia and allied Arab groups. The spokesman for the SDF could not be reached for immediate comment.
What they are saying
"It is a big victory but there is still a lot to accomplish," – a *Kurdish militant spokesperson.