France pledges unwavering support for Greece
Comments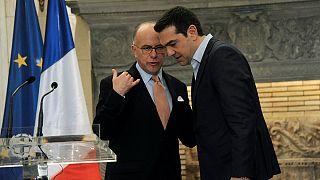 Bernard Cazeneuve has pledged France's unwavering support for Greece, as negotiations with bailout inspectors took place in Athens.
Following a meeting with his Greek counterpart, Alexis Tsipras, the French prime minister appeared optimistic about the likelihood of France's ally achieving its fiscal goals.
A bailout review has been dragging on for months, largely due to a disagreement between the EU and the IMF over Greece's financial targets.
"Greece and its partners have the political will," Cazeneuve said, adding:
"The results of the reforms undertaken, of the efforts made, are there. They are spectacular. They of course always merit being furthered. And you know that you can count on the determination and solidarity of France."
It remains to be seen whether or not France will keep its promise following its upcoming presidential election, which polls predict will see a political shift from Socialism to the centre or right-wing.