Turkey: opposition MPs lobby against constitutional changes
Comments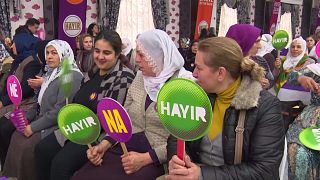 Turkey's pro-Kurdish Peoples' Democratic Party (HDP) has launched a campaign to urge people to vote 'no' in an upcoming referendum on changing the constitution.
The main cause for concern among opposition MPs is the push for an executive presidential system, which would greatly strengthen the president's powers.
There are fears this would fuel a surge in authoritarianism.
The main opposition Republican People's Party (CHP) is also against the changes and is preparing to launch a lobbying campaign.
Turkey's President and founder of the ruling Justice and Development Party (AKP), Recep Tayyip Erdogan, has been outspoken about his desire for constitutional change since taking office in 2014.
The Nationalist Movement Party (MHP) also backs the amendments.
Prime minister and AKP leader Binali Yıldırım, whose job would disappear if the proposed system came into effect, has attempted to link a 'no' vote with an association with terror groups.
"If all terror organisations are carrying out 'no' campaigning like a chorus, then that should have meaning for our country, our people and our citizens. My citizens will not be on the same side as terrorists," he said.
A 'yes' vote would pave the way for Erdogan to stand for two more terms, potentially keeping him in power until 2029.
Opinion polls suggest Turkey's electorate has not yet made a firm decision over how to vote in the April 16 referendum.