Polish MEP insists 'women must earn less' in sexist tirade
Comments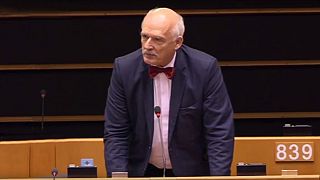 Polish conservative politician Janusz Korwin-Mikke left the European parliament aghast at a debate on the gender pay gap in Europe when he insisted that "women must earn less because they are weaker, they are smaller, they are less intelligent. They must earn less. That is all."
Korwin-Mikke offered some very strange evidence for his claims asking: "Do you know how many women are in the first hundred of chess players?" Before answering his own question with "I tell you – no-one". Former chess grandmaster Judit Polgar from Hungary might have something to say about that statement.
The 74 year-old's comments gave way to gasps of disbelief before Spanish MEP Iratxe Garcia-Perez took the floor to lambaste him.
"According to your opinion, I shouldn't have the right to be here as a member of parliament, she announced. "And I know that it hurts you and bothers you that today women can sit in the House to represent citizens with the same rights as you. I am here to defend all European women from men like you."
Politicians don't get more sexist than Janusz Korwin-Mikke MEP: just called women weak, small, less intelligent https://t.co/p0pHhkR9M9

— Ryan Heath (@PoliticoRyan) March 2, 2017
Despite the EU being a global leader in gender equality, the European Commission says it would still take 70 years for women to earn the same as men at the current rate of progress.
Women in the EU are also underrepresented in politics and are less likely to hold positions of economic power.
EP President investigates hate speech by Polish MEP Korwin-Mikke. He said women are weaker, smaller, less intelligent and need to earn less.

— Sándor Zsíros (@EuroSandor) March 2, 2017