Croatia refuses to ban abortion
Comments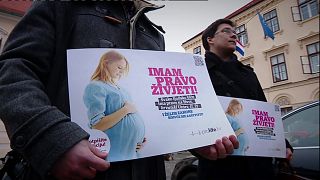 Croatia's Constitutional Court has upheld a law allowing abortion, saying the legislation does not breach the country's constitution.
However, the court urged parliament to pass new abortion legislation within two years.
The head of the Constitutional Court, Miroslav Separovic, told a news conference that current legislation allowing a woman to terminate up to the 10th week of pregnancy did not breach the constitution.
"It is not up to the Consitutional Court to rule when human life begins," Separovic told reporters.
"The new law must define educational and preventive measures which would, in practice, make an abortion rather an exception..we think that this is a rational, balanced and just ruling."
The law dates from 1978 when Croatia was one of six Yugoslav republics.
What is the background?
Pro-life groups first demanded a ban on abortion after the staunchly Roman Catholic country declared independence from communist Yugoslavia in 1991. The campaign has intensified in recent years.
Doctors are allowed to refuse to assist in carrying out abortions in Croatia, where an estimated 85 percent of people declare themselves to be Catholics.