Donald Trump aims to reset presidency in his first Congressional speech
Comments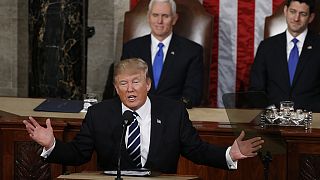 Security, trade and immigration dominated President Donald Trump's first address to both houses of Congress. His prime time speech aimed to boost his low approval ratings after a bumpy start to his tenure in the White House.
Using a more subdued tone than usual and calling for political and social unity,Trump at one point shifted from his usual rhetoric on illegal immigration to immigration reform.
"By finally enforcing our immigration laws we will raise wages, help the unemployed, save billions and billions of dollars and make our communities safer for everyone."
"The current outdated system depresses wages for the poorest workers and puts great pressure on tax payers. Nations around the world like Canada or Australia and many others have a merit based immigration system."
Democrats listened unmoved by much, but to Republican ears the overhaul of President Barrack Obama's signature healthcare law and tax reforms favouring businesses were welcome. So too was Trump's renewed promise to keep Americans safe.
"According to data provided by the department of justice, the vast majority of individuals convicted of terrorism and terrorism-related offenses since 9/11 came here from outside of our country. It is not compassionate but reckless to allow uncontrolled entry from places where proper vetting cannot occur."
Plans for a trillion dollar investment in infrastructure and a massive rise in defence spending were well received by some on both sides, although many Democrats aren't so sure about the defence hike and all remain unclear where the money to finance the plans will come from.
Key points
Promises broad overhaul of the US immigration system in a shift from his hardline campaign rhetoric.
Focuses on problems at home by boosting the US economy with tax reform and a $1 trillion infrastructure effort.
Promises overhaul of President Barack Obama's signature healthcare law, known as Obamacare.
CNN TV poll gives a 78% approval rating after speech.
Liberals don't even know what to say! No criticism for that flawless speech from the president.

— Trump Pence 45 (@TrumpPence45) March 1, 2017
Let's be clear: Trump's speech sounded less offensive but still targeted immigrants, the environment, health care, helped the rich, etc.

— David Rothkopf (@djrothkopf) March 1, 2017